Magna International says it is the largest OEM parts supplier in North America and the third largest in the world. In addition, the company's entire assembly arm makes the Jaguar I-Pace electric crossover, wins the contract to build the Fisker Ocean EV crossover and signs up to build electric skateboard platforms for Ree Automotive. The Canadian team has a lot of expertise in electric powertrains and in recent years has been showing off its in-house electric platform work under the moniker EtelligentDrive. Magna announced its latest platform development at CES, the EtelligentForce BEV powertrain system for light-duty pickups and commercial vehicles. It is presented as a cost-effective way for a manufacturer to convert an ICE powertrain to an EV powertrain without having to redesign the platform and without changing essential vehicle specifications such as payload and towing capacity.
EtelligentForce trades the rear axle of a truck for Magna's eBeam electrified unit, which can be equipped with an ePark lock and an electronic differential lock. If the customer wants four-wheel drive, Magna's eDrive engine goes on the front axle, this engine can be decoupled for better gas mileage and torque vectoring. The maximum system power is 577 hp, the eBeam at the rear comes out at 335 hp, the eDrive at the front can deliver the rest. The company says the system is designed for "high payload vehicles," the truck's stock suspension and brakes do not need to be modified to accommodate the technology, and the units can be modified "to prioritize key performance features." ".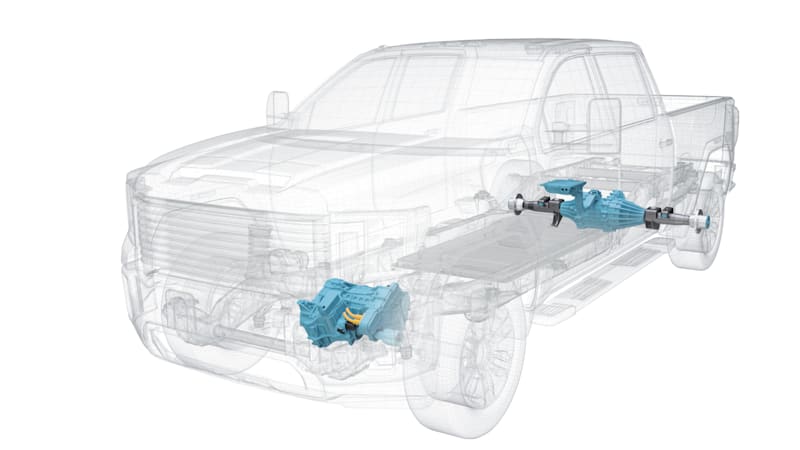 The caveat here is that while Magna mentions 3/4-ton and one-ton trucks, it also says that EtelligentForce's maximum towing capacity is 14,500 pounds. That's a weird weight to notice, because it's not far above the claimed maximum towing capacity of the Big Three's half-ton pickups, but well below the maximum towing ratings for the 3/4-ton trucks, let alone the one-ton carriers. Magna didn't spec how big a battery might be needed to power the system to usable daily range, but that extra weight could have something to do with targeting heavy trucks.
It may take a few years before we have all the production details. Magna is establishing a new electric vehicle center in Troy, Michigan, where a development team will prepare EtelligentForce for a planned rollout in 2025.